u tretorre
Sant-Andrea-D'orcino
20151 SANT'ANDREA-D'ORCINO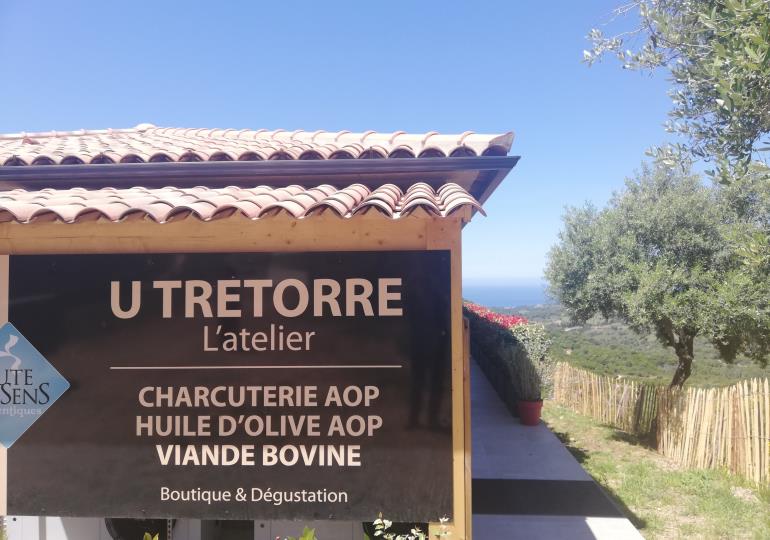 We like
The shop "U Tretorre" is adjacent to the restaurant "L'Atelier", which is also part of the family business of Mr Poli. Here you can taste the home-made meats and preparations.
The Poli family is above all a story of siblings. It all began in Guagno, a few decades ago, with the two Poli brothers, André Poli's father and uncle.
"My father and my uncle each had their own livestock, my father looked after the goats and my uncle the pigs. My brother and I learned to butcher with them, and especially with my uncle who ran the pig farm."
André Poli spontaneously wanted to go into agriculture, but his studies led him first to administration, while his brother went into the automobile sector. But family traditions often have a hard time, especially when they are built around a common passion; André therefore decided to take the plunge by creating, as a secondary activity, his pig and cattle farm on the heights of the Gulf of Tiuccia, in the small village of Sant'Andrea d'Orcino.
Already well supported by his brother Pierre-Toussaint who is following the same path and is about to set up as a farmer. The two brothers are thus following the path traced before them by their father and their uncle, with a common heritage of the desire to share and the requirement of a job well done.
Type of restaurant
Other regional products
Agricultural production
Designations
AOC/PDO Corsican olive oil - Oliu di Corsica
PDO Coppa di Corsica
AOP Lonzu di Corsica
AOP Prisuttu di Corsica
Spoken language(s)
Label(s)
Most sought-after services
COVID provisions
Hydro-alcoholic gel available
Wearing a mask is mandatory
Plexiglass protection at the reception
Implementing barrier gestures
Limited number of people on site
Reception staff equipped with masks or visors
Disinfection of premises and areas dedicated to visits
Disinfection of equipment provided to customers
Payment method(s)
Bank card
Bank and postal cheques
Species