the old villages of the two sevi
Discovering the heritage, Enjoying with the family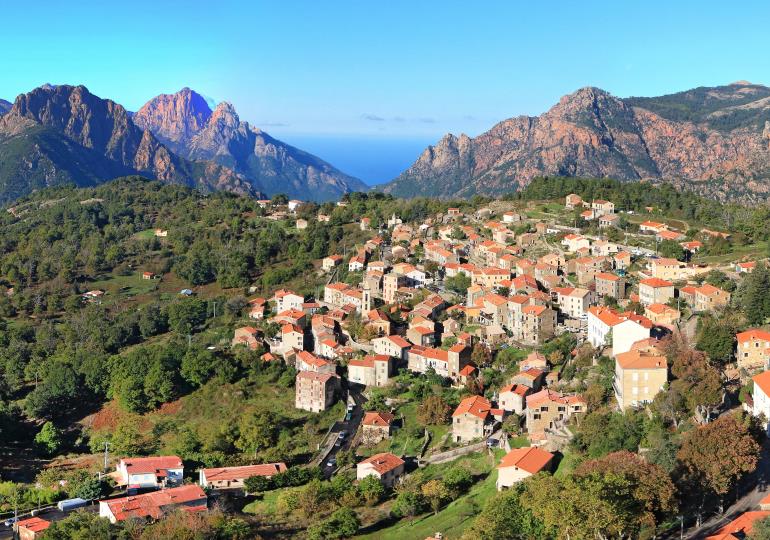 We like
Car tour to discover the mountain villages of the Two Seas.
Departure from Porto on the road to Calvi D81, then direction Ota D124, original village - beautiful typical houses and winding streets in the upper part of the village (on foot).
Continue along the D124 to the place called les Deux Ponts, upstream on the right, you can admire a magnificent renovated Genoese bridge (16th century). After the two bridges, the road makes a loop and joins the D84 towards Evisa.
Situated at 900 m altitude and surrounded by chestnut groves, the village of Evisa is built on a balcony above the Gulf of Porto - orientation table overlooking the Gorges de la Spelunca at the entrance to the village. In the village, crafts and Corsican products.
After a walk in the forest of Aitone, go back on the D84, then continue towards the Col de Sevi on the D70, about 1.5 km after Cristinacce, take the small road D24 towards the village of Marignana.
Go through the village and then the hamlet of Chidazzu. In the latter, you can admire the characteristic wooden and bronze bell tower of the Saint François-Xavier chapel (16th century).
Continue on your way and you will arrive at the junction of the D24 and the D84 (fountain). Continue along the road on the left; as you descend the valley, you can see the cuts in the mountain formed by the Gorges de la Spelunca.
Car tour of the old villages of the two sevi.