Furnished accommodation
u castagnu 2
Evisa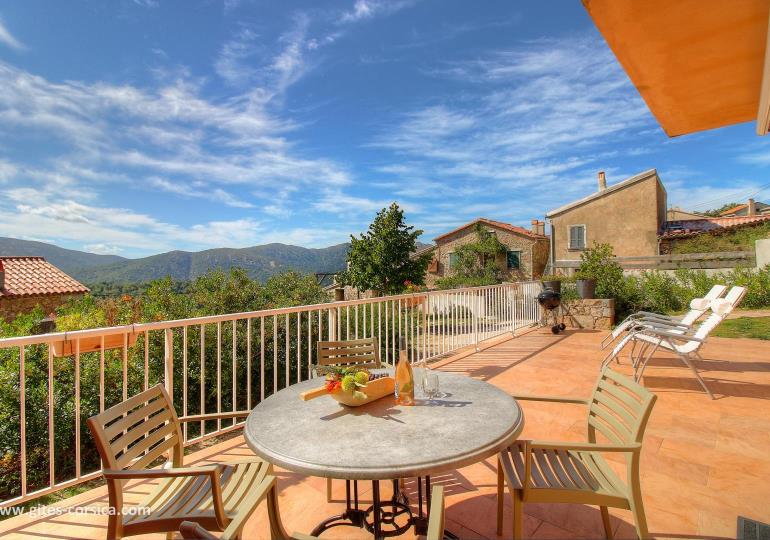 We like
Whether you are an outdoor enthusiast or simply looking for an exceptional natural setting for your holiday, you will be enchanted by the village of Evisa.
Your gîte is located on the heights of the village, which will allow you to overlook the tiled roofs and admire the view of the surrounding mountains from your terrace.
Evisa, a pearl in its natural setting between the Spelunca gorges and the Aitone forest.
You will discover with delight a facet of Corsica that is very much appreciated by the islanders and the faithful visitors of the region, that of bathing in the river and walks in the forest, that of village life and artisanal products...
Naturally, as everywhere in Corsica, the sea is never far away... and with it, the wonders of the Gulf of Porto, classified as a UNESCO World Heritage Site: Girolata, the Calanches de Piana, the Scandola reserve...
You will be kindly received by the owner of the premises, a former agent of the Regional Natural Park of Corsica, who will heartily advise you on the visits and walks you should not miss!
Spoken language(s)
Label(s)
Most sought-after services
Nearby activity(ies)
Riding
Lake/Water body
Hiking trail(s)
Team tennis
Comfort
Fireplace
Air conditioning
Freezer
Bed linen and towels included
Microwave oven
Private washing machine
Dishwashers
Hair dryer
Television
Wifi
Description of the house
Private parking
Plain foot
Enclosed land
Terrace or Balcony
Private shower room
Separate toilet
Private toilet
Semi-detached house
Minimum

rates (in €)

Max.

rates (in €)

Night (furnished)

286€

Weekend (furnished)

286€

Week (furnished)

500€

715€
Payment method(s)
Bank card
ANCV
Gift vouchers
Period

from 01/01/2023 to 31/12/2023
Access
Railway station

Airport/Aerodrome