Furnished accommodation
piazza alla pietra
Ota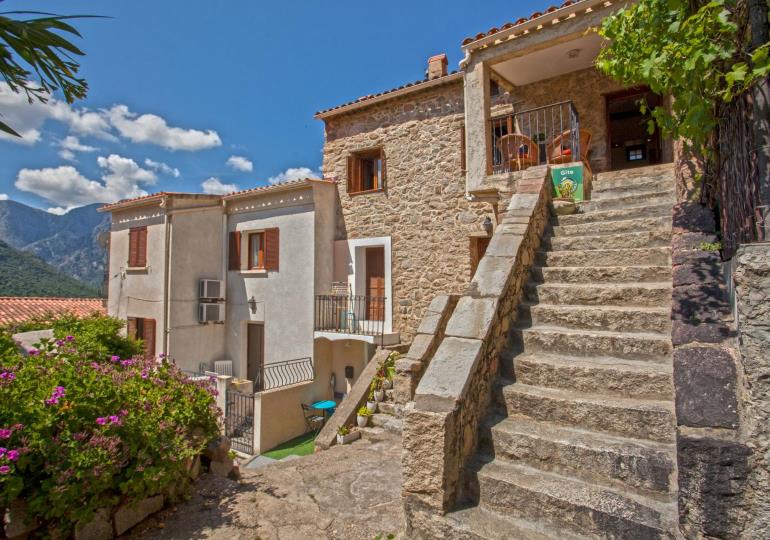 We like
You will certainly be amazed by the beauty of the landscapes of this pastoral region of Corsica where the contrast of colours is striking and the Corsican soul is very present.
On the coast, the red rocks of the mountains plunge into the blue sea, while the roads wind through green valleys as you explore the hinterland. You can discover small, typical villages, such as Ota, nestled in the mountains yet so close to the sea and the UNESCO World Heritage site of the Gulf of Porto. You will also be less than half an hour away from the famous Calanques de Piana, whose incomparable scenery will amaze you.
The gîte is housed in a stone house with typical Corsican architecture, which will charm you with its careful, high-quality furnishings. Here, the character elements have been preserved so that the chestnut beams and the traditional stone bring you a feeling of authenticity and comfort.
Located in the heart of the village of Ota, you will enjoy an authentic and relaxing setting just a few minutes from the coast.
Spoken language(s)
Label(s)
Most sought-after services
Nearby activity(ies)
Riding
Lake/Water body
Hiking trail(s)
Comfort
Air conditioning
Freezer
Bed linen and towels included
Microwave oven
Private washing machine
Dishwashers
Hair dryer
Telephone
Television
Description of the house
Terrace or Balcony
Private bathroom
Separate toilet
Private toilet
Semi-detached house
Outdoor equipment
Garden furniture
Private tennis
COVID provisions
Display related to distancing
Application of the health protocol of the profession
Hydro-alcoholic gel available
Marking of one metre distance at reception
Cleaning with virucidal products
Wearing a mask is mandatory
Sanitary protocol for cleaning rooms
Implementing barrier gestures
Book online or by phone
Reception staff equipped with masks or visors
Disinfection of premises and areas dedicated to visits
Disinfection of payment terminals
Disinfection of equipment provided to customers
Minimum

rates (in €)

Max.

rates (in €)

Week-end (furnished)

156€

Week (furnished)

390€

1 095€
Payment method(s)
Bank card
ANCV
Gift vouchers
Access
Railway station

Airport/Aerodrome