Furnished accommodation
holiday rental gîtes de france 16051
Vico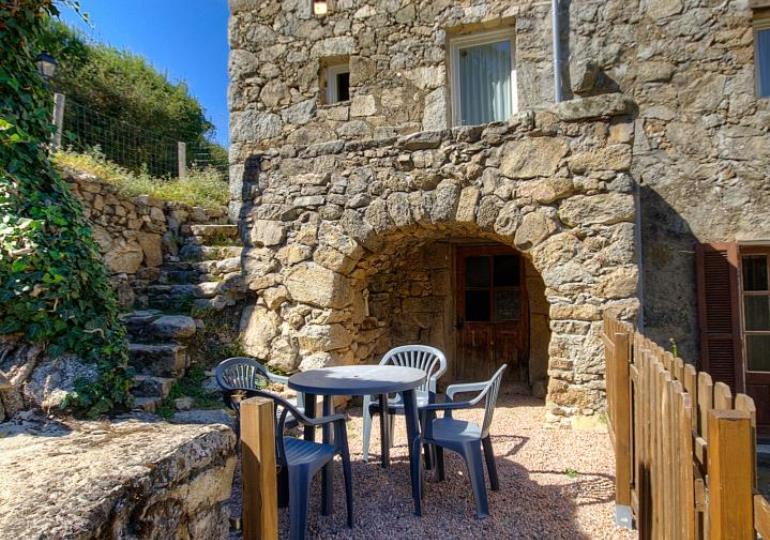 We like
This stone house is like the village of Vico: full of history and the life of its inhabitants. You will enjoy having lunch in this small courtyard surrounded by stone walls. You will be able to admire the beautiful view of the village of Vico and of the 'Sposata' (the wife), the peak that takes its name from a legend that the owner of the house will be happy to tell you.
Vico is also a very strategic place to discover western Corsica. You have easy access to the Gulf of Sagone and the sea (15 kilometres away), the Gulf of Porto and the Calanches de Piana can also be easily visited. The road to the interior also gives you the opportunity to reach the Aïtone forest and the Vergio pass, the majestic gateway to the Niolo, the characteristic valley of central Corsica.
Closer, the convent of Saint-François, 600 m from the gîte, is worth a visit for its 17th century church, where you can find the oldest wooden Christ in Corsica (14th century).
Label(s)
Most sought-after services
Nearby activity(ies)
Riding
Lake/Water body
Collective pool
Hiking trail(s)
Team tennis
Thermalism
Comfort
Freezer
Microwave oven
Private washing machine
Dishwashers
Hair dryer
Television
Description of the house
Private parking
Enclosed land
Private shower room
Separate toilet
Private toilet
Semi-detached house
Minimum

rates (in €)

Max.

rates (in €)

Week (furnished)

293€

563€
Payment method(s)
Bank card
ANCV
Gift vouchers
Access
Railway station

Airport/Aerodrome