Bed and Breakfast
the gardens of casa murza
Vico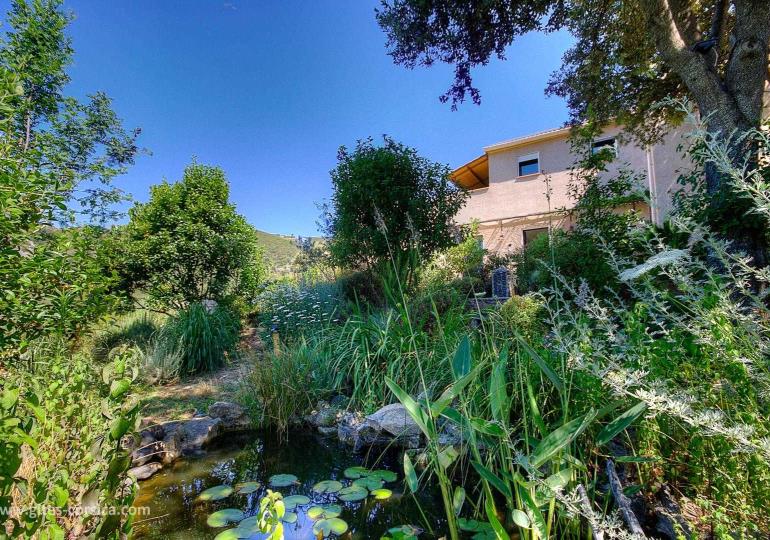 We like
Casa Murza is first of all a privileged location, perched on top of a hill overlooking Vico. It is an ideal base for discovering the various facets of western Corsica and the mountains of the Haut Canton or the Niolu Valley. Bathing in the sea or in the river, hiking of all levels in this region of the Two Sorru, will leave you with lasting memories!
To come to Caza Mura is also to meet two enthusiasts: Bernard and Michel. And their passions are not lacking! All the essences of the Corsican maquis in their garden bear a botanical label. They wanted the design of this house to incorporate the principles of eco-construction. This commitment took concrete form in 2009 when they obtained the Ecogîte qualification. Without sacrificing comfort, the house is a great way to raise awareness of an eco-citizen approach.
Bernard will gladly open his workshop to those who are interested in the craft of violin making.
In the kitchen, Michel is in charge and will share his secrets with you. He also prepares many everyday products: sourdough bread, brioches, yoghurts, fresh pasta, desserts and jams made from organic products. Bernard grows vegetables in a communal garden. Meat, cheese and wine come from local producers who respect the environment.
Spoken language(s)
Most sought-after services
Nearby activity(ies)
Riding
Lake/Water body
Hiking trail(s)
Team tennis
Description of the house
Private parking
Enclosed land
Garden
Terrace or Balcony
Private shower room
Private bathroom
Separate toilet
Private toilet
Semi-detached house
COVID provisions
Application of the health protocol of the profession
Minimum

rates (in €)

Max.

rates (in €)

Overnight stay 2 pers.breakfast (ch.hôtes)

125€

125€

Meal/pers.(ch.hôte)

30€

30€