Furnished accommodation
casa partinello
Partinello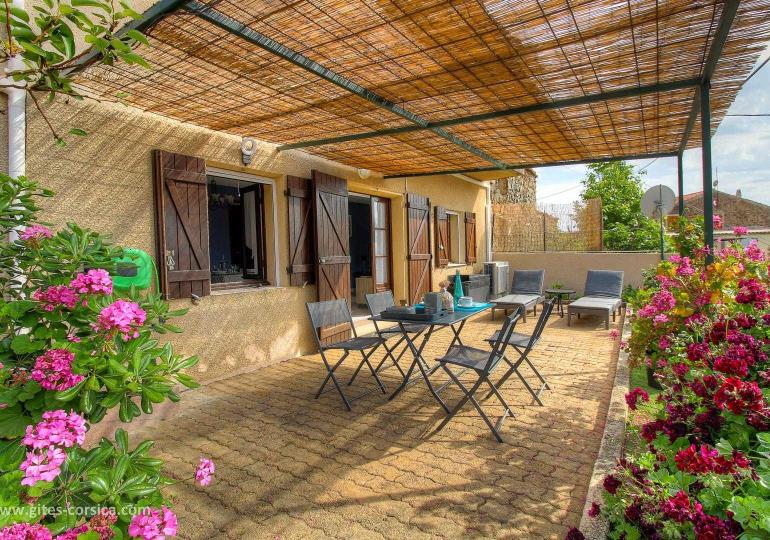 We like
Partinello is the heart of the very special region of the west coast of Corsica. A village overlooking the valley, it is situated in a preserved environment which will offer you both a change of scenery and rest: the two Sevi, born from the fusion of the cantons of Evisa and Piana.
This region, full of contrasts, will take you from discovery to discovery. The coast first of all, jagged, it hosts beaches that cannot be ignored for their beauty: Bussaglia, a beach of pebbles and rocks where the mountain plunges into the sea, E Gradelle which allows you to reach the beach of Caspiu on foot, both of which are suitable for swimming for children, and further on the beach of the Gulf of Porto, which is not to be missed, the Gulf of Girolata, or those of Arone and Ficajola, on the way to Piana. On the sea side, there are of course the Calanques de Piana, to be discovered during a day's boat trip or a hike, to marvel at this sublime setting of red rocks and turquoise sea.
The mountains are not to be outdone in this region, there are many walks and hikes to discover, as well as mountain villages: Evisa in the Aitone forest, with its waterfalls and natural pools, the Spelunca Gorges, which link Ota to Evisa, the villages of Osani, Serriera... enough to fuel your stay!
You can come back to relax after these beautiful days on the terrace of your gîte with its beautiful view on the mountain and enjoy a moment of rest, an aperitif or a meal. Take it easy, sheets and towels are included in the price!
Label(s)
Most sought-after services
Nearby activity(ies)
Riding
Golf
Lake/Water body
Hiking trail(s)
Team tennis
Thermalism
Comfort
Air conditioning
Freezer
Bed linen and towels included
Microwave oven
Private washing machine
Hair dryer
Television
Wifi
Description of the house
Private parking
Enclosed land
Terrace or Balcony
Private shower room
Separate toilet
Private toilet
Semi-detached house
Minimum

rates (in €)

Max.

rates (in €)

Week (furnished)

360€

680€
Payment method(s)
Bank card
ANCV
Gift vouchers
Access
Railway station

Airport/Aerodrome