Furnished accommodation
carlu
Serriera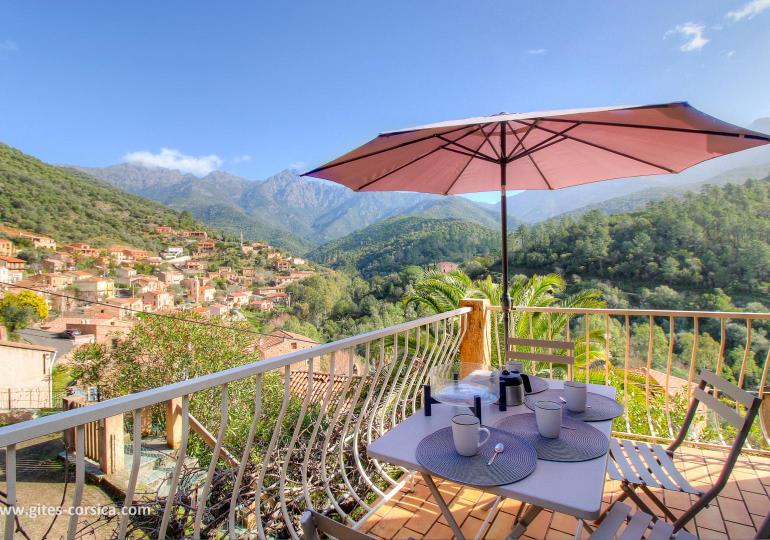 We like
You will certainly be amazed by the beauty of the landscapes in this region of Corsica where the contrast of colours is striking. Here the red rocks of the mountains plunge into the blue of the Mediterranean, while the roads wind through green valleys as you explore the hinterland. Here you can discover typical small villages, such as Serriera, nestled in the mountains yet so close to the sea.
The beach of Bussaglia, only 3km away, is a sight like few others. Following the river, you will arrive on this pebble beach, with a splendid view of Capo d'Orto. There are two huts and you can rent a kayak or a paddle to enjoy this place, which is still not very popular. And if you linger, the sunset and the starry sky await you, with no light to disturb the moment.
The west coast of Corsica is one of the wildest places you can discover on the island and is home to many treasures: the famous Calanques de Piana, the village of Porto, the Scandola marine reserve, Capo Rosso, the beach of Arone, ... and the many hiking trails through the maquis!
After these busy days, the return to your gîte, which seems to be clinging to the mountain, will allow you to appreciate all the splendour of its environment. A real holiday destination where relaxation and change of scenery await you.
Spoken language(s)
Label(s)
Most sought-after services
Nearby activity(ies)
Riding
Lake/Water body
Hiking trail(s)
Team tennis
Comfort
Air conditioning
Freezer
Microwave oven
Private washing machine
Hair dryer
Television
Description of the house
Private parking
Detached house
Terrace or Balcony
Private shower room
Separate toilet
Private toilet
Minimum

rates (in €)

Max.

rates (in €)

Week (furnished)

390€

590€
Payment method(s)
Bank card
ANCV
Gift vouchers
Access
Railway station

Airport/Aerodrome