Furnished accommodation
azure è castellu
Calcatoggio
SANT ANDREA D'ORCINO MASORCHIA
20111 SANT'ANDREA-D'ORCINO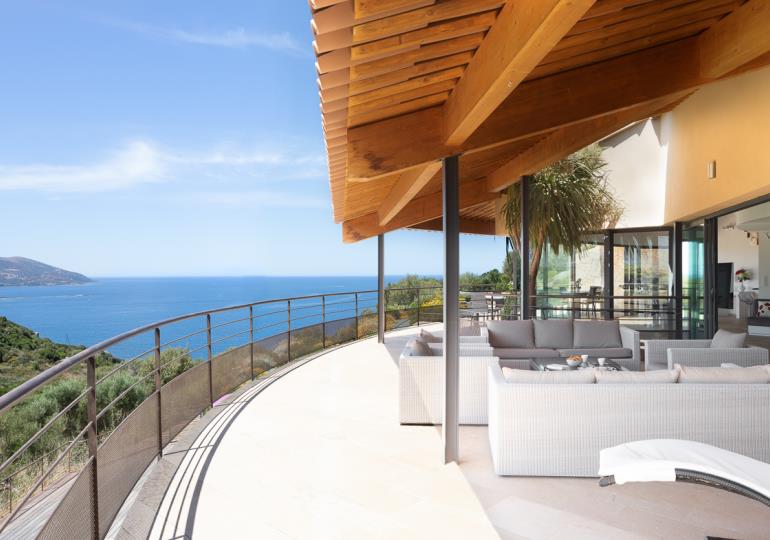 We like
The villa "Azur è Castellu" invites you to an exceptional stay with family or friends.
Invite your family and friends to an exceptional villa for your holidays. Enjoy a superb sea view and a 3,000 m2 space.
The beauty of the Villa "Azur è Castellu" lies not only in the simplicity of its architecture as well as its decoration and colours, but also in its harmonious integration into the natural environment.
On the spot, enjoy its secure 10 x 4 metre infinity pool, with its view of the sea and mountains!
The central location of the villa allows you to visit a good part of the West Coast with its famous sites such as the Calanques de Piana and the Scandola nature reserve.
To the north, go to Calvi and visit, in the space of a day, this sumptuous city with excellent restaurants. In the south, plan a day trip to the rich and picturesque Bonifacio.
"Azur è Castellu" has 280 m2 of living space and is built on three levels. The spaciousness and the layout allow everyone to isolate themselves for a more intimate occupation. So when you return from your visits, take advantage of its different spaces, private or not, and enjoy a soothing and comforting stay!
Spoken language(s)
Most sought-after services
Nearby activity(ies)
Riding
Golf
Kayak
Lake/Water body
Boat rental
Jet ski rental
Bicycle hire
Recreational boating
Fishing
Supervised beach
Windsurfing
Diving
Walks at sea
Guided walks
Quad biking tours
Hiking trail(s)
Water skiing
Air sports
White water sports
Team tennis
Sail
MOUNTAIN BIKE
Comfort
Heating
Fireplace
Air conditioning
Freezer
Bed linen and towels included
Oven
Microwave oven
Private washing machine
Dishwashers
Satellite
Hair dryer
Private dryer
Telephone
Television
Wifi
Description of the house
Private parking
Cycle shelter (motorcycles/bikes)
Covered shelter
Detached house
Independent entrance
Enclosed land
Garden
Court
Terrace or Balcony
Private shower room
Private bathroom
Separate toilet
Private toilet
Fully equipped kitchen
Sea view
Outdoor equipment
Barbecue
Jacuzzi/Spa
Swimming pool
Heated swimming pool
Garden furniture
COVID provisions
Display related to distancing
Application of the health protocol of the profession
Hydro-alcoholic gel available
Cleaning with virucidal products
Sanitary protocol for cleaning rooms
Book online or by phone
Limited number of people on site
Reception staff equipped with masks or visors
Disinfection of premises and areas dedicated to visits
Minimum

rates (in €)

Max.

rates (in €)

Week (furnished)

3 150€

4 970€
Payment method(s)
Bank and postal cheques
Transfer
Period

from 01/01/2023 to 31/12/2023
Access
Ferry terminal

Airport/Aerodrome