sari d'orcino - sari d'orcinu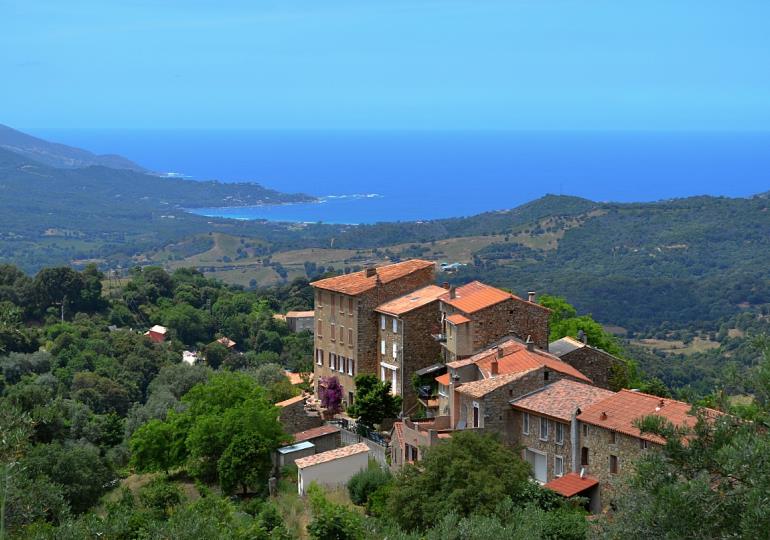 We like
Sari d'Orcino is a typical mid-mountain village with the sea as its horizon and the traces of the past of the Counts of Cinarca
Sari d'Orcino, as if on a green balcony overlooking the Mediterranean, looks out over the distant shoreline and the Castellu di Capraja from an altitude of between 350 and 460 metres. Surrounded by gardens, vineyards, orchards, citrus groves, pastures and pastures, Sari d'Orcino is made up of several hamlets, between 500 metres and 5 km apart from each other.
Some of these hamlets date back to the foundation of the village, others to its reconstruction at the end of the 15th century.
It is now known that the village has been occupied since prehistoric times. Indeed, its location, its particular microclimate and the fertile richness of its soils made it favourable for the establishment of populations and easy cultivation.
The richness and diversity of the flora favoured the development of the fauna and Sari d'Orcino was rich in game of all kinds, as well as in goat, sheep, pig and cattle breeding.
A little background information:
The village extends over several hamlets built around two initial water points (Canale and Marghinale), hence the current names of Acquainsù (water from above) and Acquainghjù (water from below) for the two main built-up areas.
For this reason, it is said that in Sari d'Orcino there is an abundance of water and, although some streams sometimes almost dry up in summer, the springs and underground rivers never dry up.
Access
Airport/airfield


Ajaccio at 30 km

Maritime station


Ajaccio at 30 km