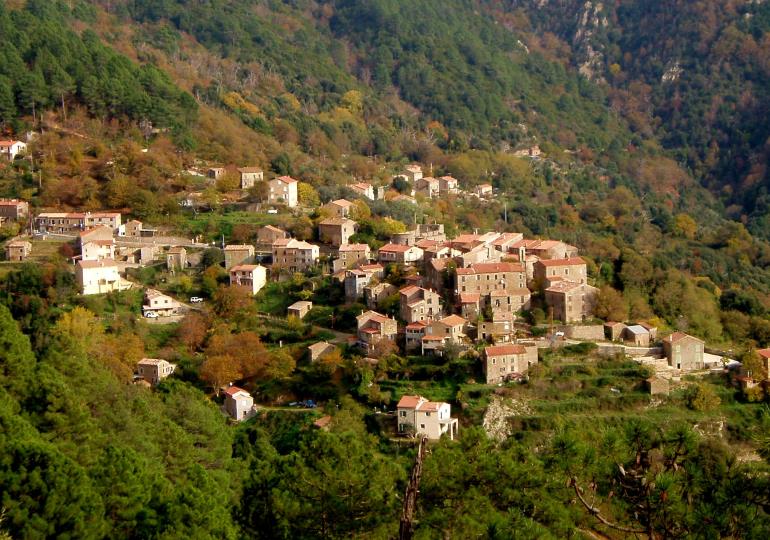 We like
Rosazia is a mountain village located at the foot of a mountainous cirque. Rosazia charms the visitors with its particular character.
Rosazia
Rosazia is a small mountain village, nestled in the Cruzzini, at 650m of altitude. Dominated by the Monte Cervellu from the top of its 1 624m of altitude, Rosazia is built on a multitude of small terraces supported by low walls on which small granite houses with old roofs, form a remarkable architectural whole.
Its history goes back to the first times of the Prehistory and one finds trace of archaeological sites on the territory of the commune, more particularly Castellucciu, small habitat dating from the Bronze Age (2 000 years before J.C) which dominates the bridge of Biacciani and the crossings of the Strada Antica coming from the Cinarca.
Afterwards and as often in the region after the repression of Genoa led against the lords cinarchesi Da Leca and the barbarian attacks, the Middle Ages mark the time of the desertion of the village of Rosazia.
For the record:
The unfinished church of Rosazia is a magnificent monument whose construction began in 1897. It was never completed due to a lack of men, as the building work ended with the outbreak of the First World War.
In its open-air nave, the church has seen generations of Rosacians who have had their first parties, weddings and balls.
Closed from 1997 to 2009 for renovation work to bring it up to standard, it is now used as a festival hall.
And according to the inhabitants, "there is no question of putting a roof over it, it would lose all its charm".