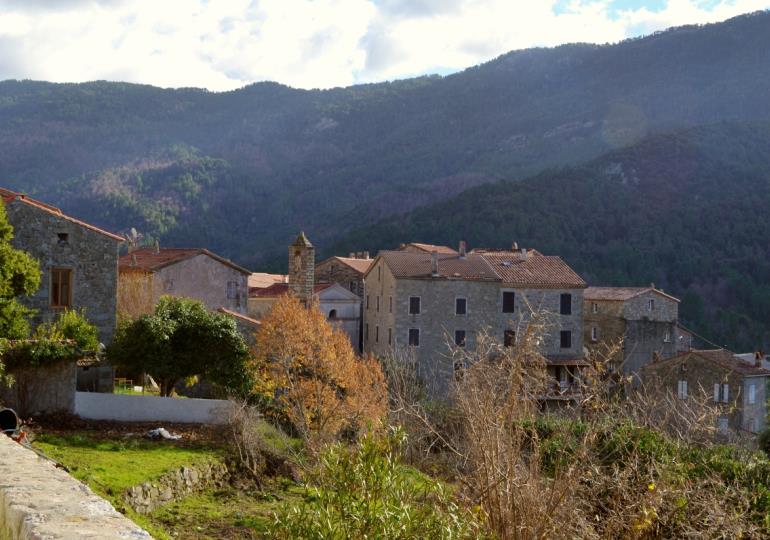 We like
A small mountain village built on a hillside, Poggiolo is known for its thermal hamlet of Guagno-les-bains
Poggiolo is a small mountain village at an altitude of 580m. It was built on the side of a small hill. Its name comes from the place where the village was established, spread out on a flat area suitable for habitation, called "poghju" (height, summit in Corsican).
As an integral part of the pieve of Sorrinsù, the exact origin of the village remains mysterious and no written trace exists on this subject. Nevertheless, the ruins of a chapel at the place called Sant'Anaria, probably dating from the 10th century, show that it was occupied.
Poggiolo has two charming little churches, San Simeonu and San Roccu. The present parish church, dedicated to San Simeonu, dominates the village. It is the testimony of the work of the ancients for their place of worship.
In the 16th century, this building was used as a pious church. But it became too small and was abandoned and desecrated following a murder. The chapel of San Roccu in the heart of the village was used as a place of worship until it was rebuilt on the same site as the old church of the piazza.
It was then rebuilt at the end of the 19th century.
But the village owes its fame mainly to the hamlet of Guagno-les-Bains which, as its name suggests, has a thermal spring with virtues
For the record:
It was at the beginning of the 16th century that the springs of Guagno-les-bains were mentioned for the first time by Monseigneur Giustinianni. Although they had certainly been exploited for a very long time, three granite basins were only installed in 1711 and the settlement only developed very little around the springs and the basins. It is only in the 19th century that the thermal baths will know their apogee with the construction of the first thermal establishment in 1815.
The thermal waters of Guagno-les-bains are sodium sulphur waters, reputed to cure rheumatism, dermatosis and trauma, sore throats and eye diseases, depending on the source from which they come.
The station thus comprises two sources. The first, known as the main spring, is the Venturini spring, whose flow rate was around 70,000 litres per day. The second one is the Coggia spring, which springs up at about 800m from the thermal establishment, in a small and rather dilapidated building, on the side of the road.
The water of Guagno-les-bains would have an emergence temperature between 49°C and 33°C according to the spring.
Access
Airport/airfield


Ajaccio at 68 km

Maritime station


Ajaccio at 68 km