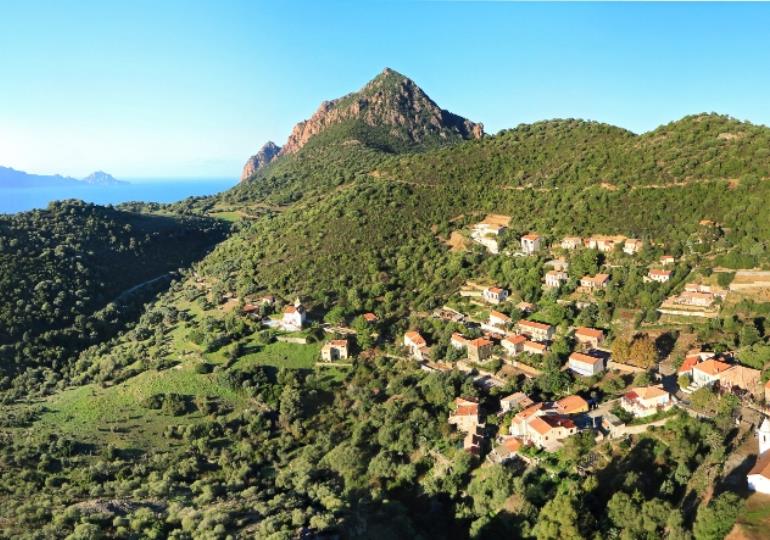 We like
Situated at the foot of Cape Senino, one of the highest in Europe (618 m), Osani is a village made up of three hamlets located in the heart of the western side of the Natural Park of Corsica, north of the Gulf of Porto, classified as a UNESCO site.
The village is situated on a hill and a small road leads to the sea (4 km) and to the Gradelle beach. During the Cinarchesi war (1481-1510), the village was depopulated, helped by frequent pirate raids. The inhabitants who had taken refuge in Balagne were authorised by the Office of Saint-Georges in 1516 to resettle there.
The hamlet of Curzu with its old granite houses and its pretty little church welcomes many hikers from the Mare et Monti nord.
The most famous of the three hamlets is without context Girolata and its gulf, accessible only by the path starting from the col de la croix or by the sea.
Guarded by its Genoese towers, the commune saw the height of its history in the Middle Ages during the period of the barbarian invasions.
At the end of the 18th century, the shepherds who used to frequent these places on a seasonal basis ended up settling down. The area was once used for coal mining, which was evacuated via the Gradelle beach.
but as the yield was never very high, the mine was finally abandoned in 1974. There are still some remains of this activity, such as the shafts at Cardella, Murato and Sperone.
A little background information:
In the cemetery, there is a richly decorated granite tomb. It is that of the gardener Lorenzo, who had a tragic love affair. He was to marry his beautiful fiancée Calixta.
During an epidemic, the young girl decides to leave with the brotherhood to care for the sick. With the premonition that he would never see her again, Lorenzo died of grief on the evening of Calixta's departure.
Touched by his story, the villagers decided to erect a magnificent tomb in memory of the unfortunate man.
No one has ever known where Calixta died. Legend has it that since then, on certain summer evenings, the ghost of the gardener can be seen watching the horizon, waiting for his bride.
Access
Airport/airfield


Ajaccio at 101 km

Airport/airfield


Calvi at 55 km

Maritime station


Ajaccio at 101 km

Maritime station


Calvi at 55 km