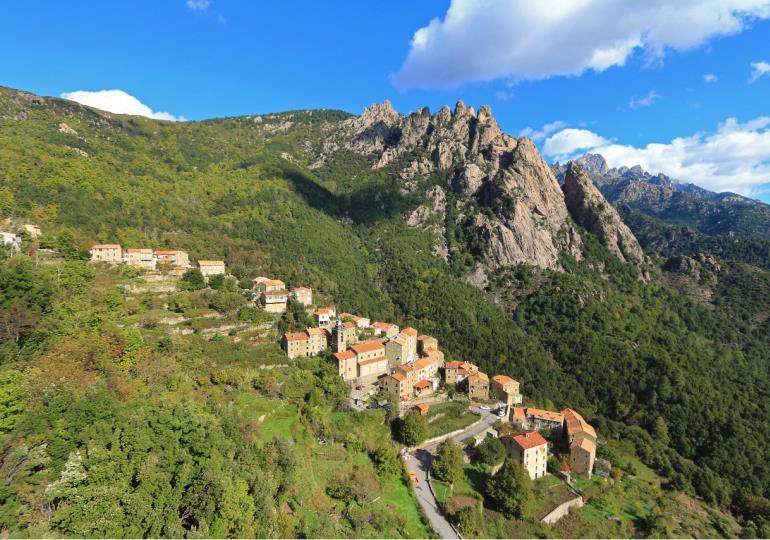 We like
Orto, surrounded by forests at an altitude of 800 m, was built at the foot of vertiginous rock faces.
The village of Orto is dominated by the jagged peaks of Mount Sant'Eliseo (1511 m). Offering several climbing routes and known for its hiking path to the lake of Creno, Orto is built in tiers with beautiful houses with stone facades, small alleys connecting the village on the heights in stairs.
From this small village, a beautiful point of view opens on "U Monte Tretorre" and its three domes, but also the forest of Libiu located in the Natural Park R2gional of Corsica.
In Corsican language, "Orto" means "garden". Indeed, the village was cultivated until the 80s. Its construction in espalier created a dynamic of life thanks to its stone walls where one could see many gardens.
Nowadays, the village does not have this luxuriance anymore, most of the inhabitants have left and the residents do not have the strength to cultivate their garden anymore.
A little history:
Saint Elisée d'Orto Chapel
It is difficult to know the origin of the Saint Elisée d'Orto chapel, which is located on the heights of the village of Orto, at an altitude of 1,500 m, where a pilgrimage is made every August 29.
One of the stories about this chapel says that in 1916, two brothers from Orto, Jules and Pierre Bonifaci, took part in the battle of the Somme. A shell was heading towards Jules, brushing against his legs... but did not explode! Deeply troubled, the soldier, very religious, vows to erect a chapel on Mount Saint Elisée if the war spares him.
Access
Airport/airfield


Ajaccio at 66 km

Maritime station


Ajaccio at 66 km