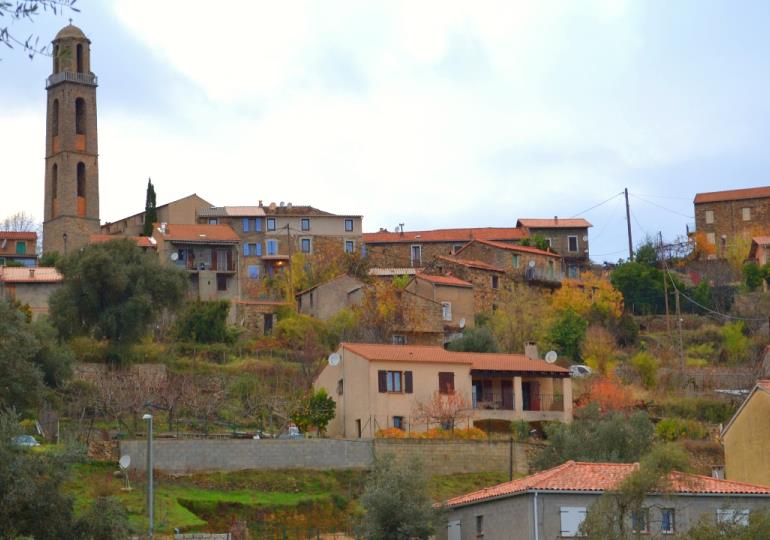 We like
A medium-sized mountain village divided into two main hamlets, Lopigna is surrounded by greenery at the crossroads of the Cinarca and Cruzzini rivers.
With its two hamlets facing each other, Bigliani and Sant'Eliseo, Lopigna is surrounded by a rich nature of heather, pine and arbutus. The Punta Sant'Eliseo which dominates it offers a breathtaking view of the gulfs of Ajaccio and Sagone as well as the peaks of Monte Renoso and Monte d'Oro.
The hamlet of Cruica was built in the middle of the 19th century by two brothers to settle their family, undoubtedly attracted by the presence of water and pastures on the neighbouring heights. The hamlet, too isolated, was never equipped with electricity, and even though there was a school there until 1942-43, the hamlet was gradually abandoned.
The only current inhabitant is Jeannot, a friendly hermit who raises and feeds cows, pigs, hens, cats and dogs, and makes his own vegetable garden and cold cuts. In 1985, he benefited from an experimental solar installation as well as a battery-operated telephone. Living alone at a 3-hour walk and despite the pressing demands of his family to join civilisation, Jeannot remains the sole master of this abandoned village.
This place is less accessible than Muna as it requires an all-terrain vehicle or can be reached on foot.
Lopigna is crossed by three rivers: the Liamone, the Cruzzini and the Erbaju, which are very popular for swimming in season.
At the end of the Middle Ages, in 1489, the village was deserted following the repression carried out for the Office of Saint George by Ambroggio de Negro. The inhabitants gradually resettled there, until in 1537 the size registers recorded 38 households.
A little history:
Lopigna is the birthplace of the bandit Spada. Nicknamed "the Tiger of Cinarca", he went underground in 1922 after killing two gendarmes during a brawl. He had many adventures and it was thanks to numerous disguises that he escaped the authorities.
He even received journalists in his 'green palace' in the maquis.
Spada is a character who has contributed greatly to the romantic image of the bandit.
Access
Airport/airfield


Ajaccio at 48 km

Maritime station


Ajaccio at 48 km