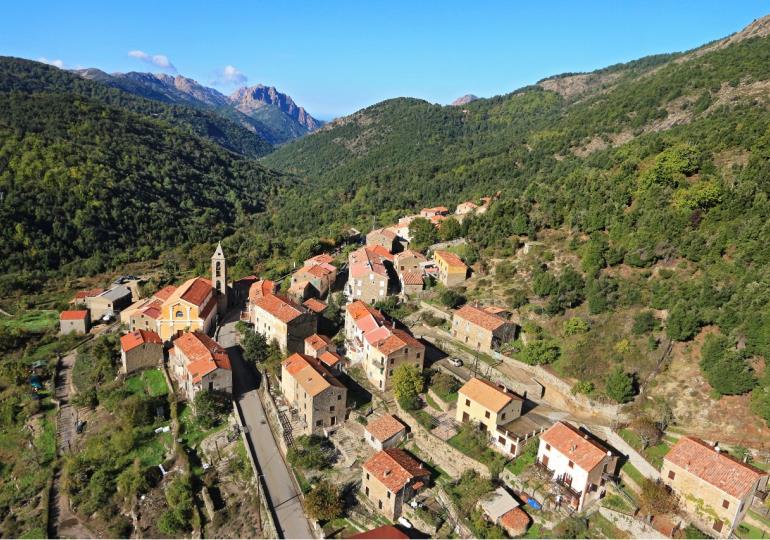 We like
Cristinacce is a village of character built on a rocky knoll at an altitude of 830 m. It is one of those typical mountain villages with beautiful old houses built on terraces
Critinacce
At the foot of the Sevi pass (1,100 m) and dominated to the north by the Capu di Melo (1,562 m) and to the east by the Tritorre chain culminating at more than 2,000 m, Cristinacce enjoys numerous hiking trails.
Surrounded by chestnut and beech trees, the breeding of pigs and cattle has developed there, offering today to its visitors numerous artisanal productions such as cold cuts, honey, jam, and chestnut flour.
Cristinacce has beautiful old houses built in granite in a mountainous and wooded environment. A traditional village, its houses are arranged in terraces and enjoy a beautiful view of the surrounding mountains.
In the heart of the village, the public fountain is supplied with spring water. It is even said that one of them, called "Saùbuchelli", would have the same virtues as the water of Volvic.
A little history:
The village was created in the Middle Ages by three Versini brothers, shepherds from the Niolo. They had many descendants, and even today the majority are Versini or descendants of Versini. Since 1830, 19 out of 24 mayors of the village have been Versini.
In the 15th century, "Les Cristinacce" was composed of seven hamlets which were burnt down in 1460 by the Genoese, in repression of a revolt fomented by Giovan Paolo da Leca-Cristinacce, local lord.
The village was probably built in 1480 on the present site, as seems to be indicated in a document of 1485 on the reorganisation of the township after those years of unrest.
In the 16th century, the barbarians decimated the population: in 1550, during one of these incursions, the neighbouring village of Evisa was plundered and 80 men were taken and made slaves. One of them, a certain Versini de Cristinacce, miraculously managed to return after many years of exile.
Access
Airport/airfield


Ajaccio at 63 km

Maritime station


Ajaccio at 63 km