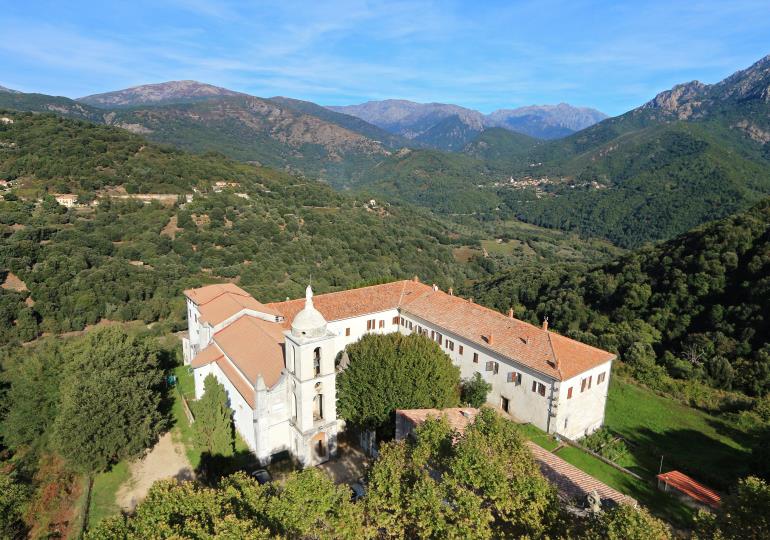 We like
A convent dating from the 15th century, the Saint François convent houses the largest polychrome wooden crucifix in Corsica, classified as a historical monument.
In 1481 the convent of St. Francis of Vico was built for the Franciscans by order of the lord Giovan Paolo de Leca.
It has been inhabited since 1836 by the Missionary Oblates of Mary Immaculate, of which Father Albini was the emblematic superior.
Recognised as an Apostle of Corsica, Father Albini is celebrated every year on 20 May at the convent, the site of his tomb.
The existence of the convent of St. Francis of Vico is closely linked to that of Giovan Paolo da Leca.
It was at the end of the 15th century that this cinarchesi lord sought to add to the image of the warlord those of the courtier and the pious patron, as the princes of his time should have been.
In 1481, at the height of his power, Giovan Paolo obtained a writ from Pope Sixtus IV allowing him to "build a convent in the location he saw fit" and financed the foundation of a convent within his seigneury.
He was copied a few years later by his counterpart and rival from the south of the island, Rinuccio della Rocca, with the convent of Tallano.
Although sources are lacking, Giovan Paolo da Leca is thought to be the person who commissioned the large polychrome wooden Christ, U Santu Franciscone, which is in the convent church.
Spoken language(s)
COVID provisions
Application of the health protocol of the profession