Nautical
Leisure activities
corse adrenaline
Enjoy with your family, Get away and relax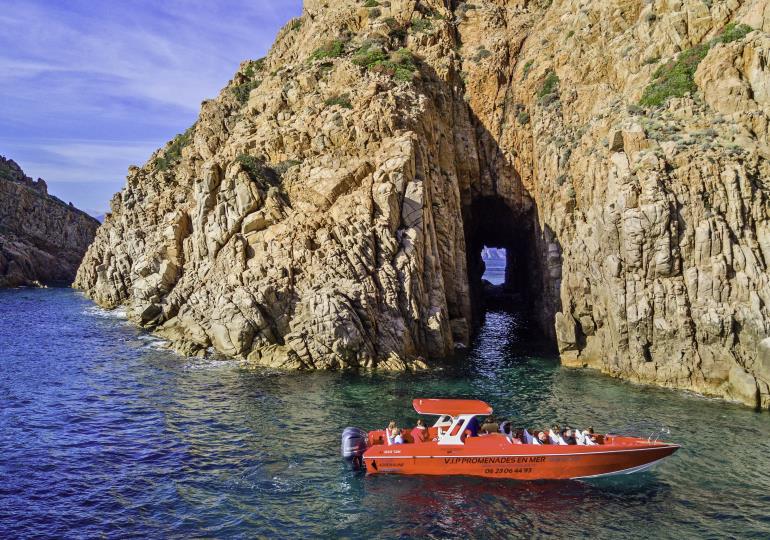 We like
Whether you are a couple, a family or a group of friends, spend half a day or a whole day on board this boat and let yourself be guided and discover all the most beautiful places in the region.
Number 1 on TripAdvisor for more than 10 years and recommended by the biggest tourist guides (Lonely Planet, le Routard, Petit Futé, France Voyage...).
Corse Adrénaline is a company based in Porto that is committed to making you discover the wonders of the Scandola reserve and the Piana creeks on innovative and comfortable 12-passenger boats with careful and authentic comments in a responsible and environmentally friendly way.
Choosing Corsica Adrenaline is to offer yourself a moment of relaxation and incomparable pleasure.
Excursions ranging from one and a half to three and a half hours, depending on the sea trip you choose, commented by a local. François-Xavier, grandson of a fisherman in the Gulf of Porto, will be able to tell you about his region but also reveal some anecdotes. David, a native of Ajaccio, will accompany you through the treasures of the Gulf of Porto with good humor and dexterity.
Corse Adrénaline is committed to the future of the visited sites. Member of the Scandola boatmen association, Pelagos ambassador for the protection of cetaceans, partner of the Mare Vivu association which works for the protection of the coastline and first company to sanctuary the integral zone of the Scandola reserve for the protection of this fragile ecosystem.
Your captain will take you on a unique offshore boat for a guided tour of the most beautiful corners of the region. Because, contrary to large boats, the Corsica Adrenaline boat can make you discover sumptuous small corners like the caves inaccessible with a large boat. Moreover, this boat has only 12 seats for a warm and friendly moment.
François-Xavier or David will be happy to answer all your questions, all in a good mood to make your sea trip a memorable moment. With a 360° view and comfortable seats placed in the direction of travel, you can only appreciate this moment of escape and will not miss anything of the landscape that surrounds you.
We also offer you to privatize the boat. As a couple, with your family or friends, spend a half day or a whole day on board this boat and let yourself be guided by a captain who will help you discover the most beautiful areas but also take you to bathing spots with authentic charm. A nice gift to discover Corsica to offer yourself or for your loved ones.
You are seduced? Go to the kiosk to meet Coralie or Mathilde who will sell tickets and also inform you, always with a smile, about the different rides offered. Welcome on board!
Spoken language(s)
Most sought-after services
Location of the activities
Payment method(s)
Bank card
Bank and postal cheques
ANCV
Species