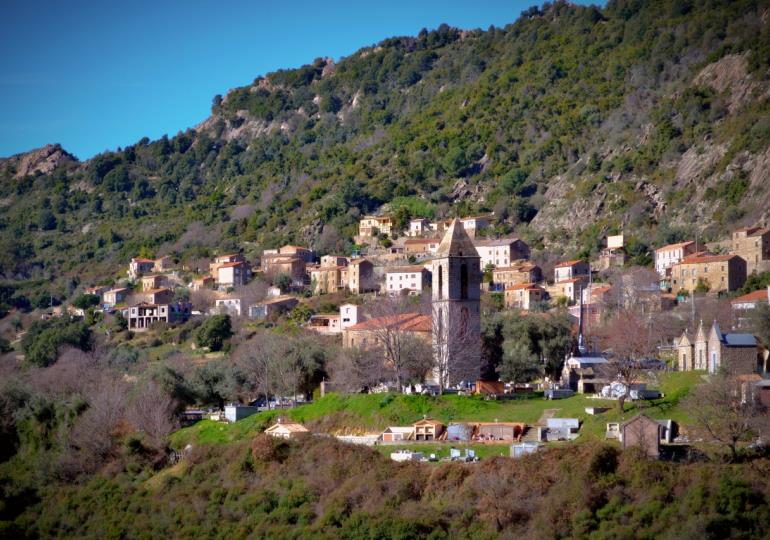 We like
A village on a mountainside dating from the Genoese domination of Corsica, built on a level and populated with houses with pink granite facades, its position off the main roads ensures peace and quiet
A small village on the side of the mountain, leaning against the slope of a rocky wall, at an altitude of 460 m, built on a level, with beautiful pink granite facades and a panoramic view towards the sea. In winter, a few minutes before sunset, the village takes on an exceptional orange colour, recreating the light of the sunsets in the Calanche de Piana and accentuating the colour of the facades of the houses.
Close to the Natural Regional Park of Corsica and the villages of Vico, Arbori and Coggia, the village is located near the prehistoric site "Tragunatu". The village is not crossed by a main road, there is only one access road, adding to the charm of the tranquillity linked to the isolation.
For the record: the village of Balogna is historically marked by the Lords of Leca, who founded it. It was created rather recently since it dates from the Genoese domination. One of the hypotheses of its creation is that it was built to remove from Balagna (hence the name) recalcitrants to Genoa's regime. It was therefore a sort of removal camp, which explains its slightly recluse position from the main axes.
In the past, until 1930, the villages and families of Balogna and Marignana were linked and relations were facilitated by an important mule track. Today's roads take the two formerly close villages farther apart.
Access
Airport/airfield


Ajaccio at 54 km

Maritime station


Ajaccio at 52 km