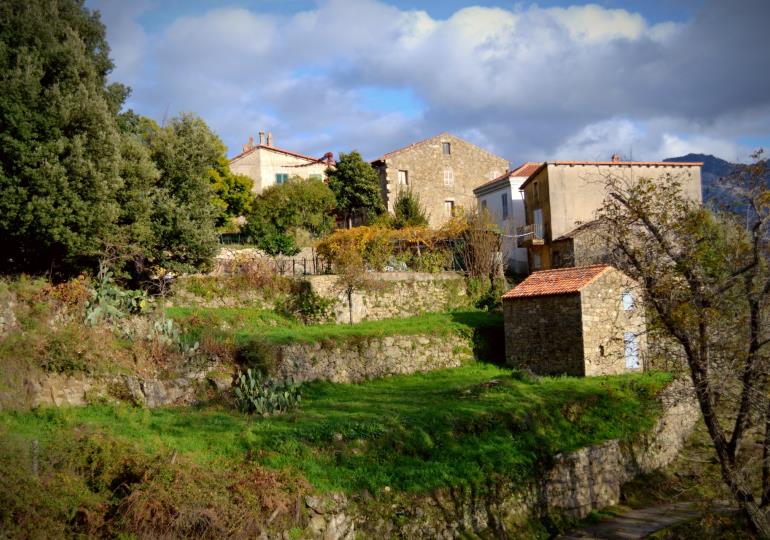 We like
The village of Cruzzini with its old-fashioned charm, in the heart of a nature preserved from the overcrowding of tourists
At an altitude of 500 m, Azzana is a peaceful village surrounded by a beautiful preserved nature, in the heart of the Corsican Regional Natural Park.
Its old stone houses are grouped around the white façade of the church and overlook the valley and Mount Trettore (1,509 m).
A little history:
Devastated in the Middle Ages during the wars of the Cinarchesi and by the repression of Genoa against the Da Leca lords, the Cruzzini was gradually repopulated during the modern era. In the 16th century, Monsignor Gustiniani mentions only four villages, including Azzana.
In 1537, there are only 5 fires (tax households), the wars of Sampieru seem to slow down the repopulation.
Azzana only developed in the middle of the 18th century. Several hamlets spread out on the slopes of the mountains dominated by U Tritorre, one of them, Soriani, the highest, still exists.
The population was essentially pastoral in the 18th century. In the following century, the commune was amputated of a part of its territory with the creation of that of Rezza.
The old parish (San Niculau) that once united the communities was now a ruin. It was abandoned in favour of the chapel of Santa Lucia, which was enlarged and became the present church.
Access
Airport/airfield


Ajaccio at 48 km

Maritime station


Ajaccio at 50 km